If you're planning to get engaged somewhere far from your home, you will definitely need to hotel for you and any other guests that may be attending. Of course, these hotel rooms need to be perfect because everything has to be excellent for this momentous occasion. But what happens when you realize that the agencies you've visited have high fees and offer pricey hotel options? Luckily, we have a solution for you: booking apps for hotels.
Booking Apps for Hotels:
Some of you may be new to the idea of letting apps do everything for you, but when it comes to occasions like these, booking apps for hotels can be a lifesaver. How many times have you been stranded in an airport, struggling to find a hotel and end up picking something overpriced because of anger and exhaustion? It's more common than you think, and no one would ever want something like this to happen to them on their engagement. Booking apps for hotels can save your momentous occasion by assuring that no problems of this nature ever occur. They make one thing on the long list of tasks so much simpler and convenient without compromising quality.
The Best Booking Apps for Hotels:
If you're new to the world of booking apps for hotels or want a few recommendations, we have the perfect list. We have compiled seven of the best booking apps for hotels that you can find regardless of what phone you own. The best booking apps for hotels ever are listed below
booking.com
This app is a Dutch travel agency in the palm of your hand. It offers many different hotel options worldwide and an array of rooms within each one. Booking.com has over 28 million listings of hotels and is available in 43 languages so that absolutely everyone can use it. This may be the reason it has become so popular. For your convenience, pictures of all rooms with existing furniture are always available. Cancelling reservations is very simple as well. All you have to do is scroll down in your confirmation email and click the cancel button.
Hotels.com
Hotels.com is a well-known favourite amongst the booking apps for hotels. It offers reservations online and through calls as well, which may be made at any hour of the day. It has over 325,000 listings of hotels in around 19,000 locations worldwide in 34 different languages for optimal convenience. At times, they have multiple offers such as discounts or an extra night for free, which can primarily benefit you. It includes pictures, important information, ratings and much more. Cancellation may be made through their 24-hour customer service helpline or online through their website or app.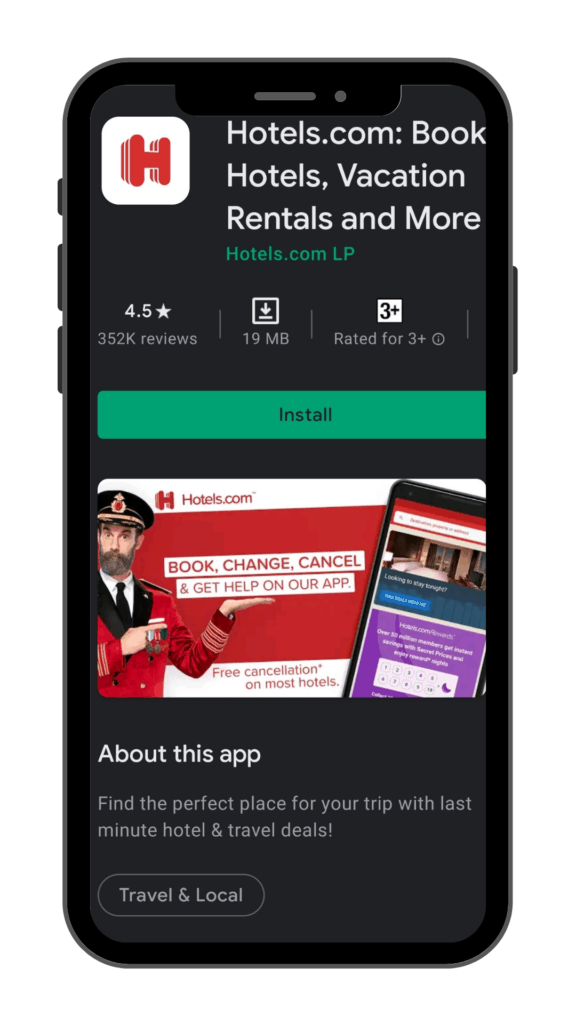 Agoda
Agoda is a great booking app for hotels, airport transfers, flights and vacation rentals. You can make a booking online through their website or through their application. It is known to be one of the less expensive choices while looking for hotels as they always have a range of offers, bundles, deals and discounts such as early bird discounts, member discounts and mobile-only discounts. There are discounts for simply using their app too! They provide free cancellation, so you can always select another option if you changed your mind. After all, your engagement needs to have the perfect hotel room to truly be perfect.
Expedia
Expedia is your all in one travel app. It is an all-rounder from the booking apps for hotels as it offers more than hotels. It includes car rentals and flights along with your hotel so that everything will be ready the second you arrive for your engagement. Getting a membership will also grant you access to fantastic discounts and offers. Their core values include honesty, a positive approach, team effort, striving for the best, and always thinking smart and big. Collectively, these values could grant you a wonderful stay during your engagement.
Priceline
Priceline is a travel agency that provides a booking app for hotels, but here's what makes it stand out. It helps you find discount rates for all purchases that are travel-related, including flight tickets and hotel stays. Along with this, they provide free cancellation and no extra credit card fees either. They promise that no hidden charges are ever included after the final payment. This way, you won't have to pay any additional money to hotels that you have already paid for. Priceline will reduce your travel and hotel costs so you can spend what you saved for an extra unique engagement.
Trivago
Trivago is the best place to go if you're confused from seeing multiple listings on so many different booking apps for hotels. It displays deals from various other booking apps, websites and every source you can probably think of. If you're unsure of where to go, they have a list of the top-rated, best destinations to travel to. It includes the average price for each. With more than 175 million collective hotel ratings, over 19 million pictures of rooms and comparisons from 300 booking sites and 5 million hotels, Trivago is a great place to compare so that you can make your final decision for the perfect engagement location.
Hotels combined
Hotels combined is also a metasearch engine for booking apps for hotels. This means that it combines all prices and deals from multiple hotel apps, websites and much more. It offers over 42 languages, handles around 130 different currencies and aggregates more than two million deals from various hotels and travel sites. It allows you to compare everything online and save much more than you expected. It also includes a feature called Price Alerts which notifies you whenever prices of places you have searched for on the app drop by at least 10%.
With these even apps, you are bound to find the perfect hotel room, vacation rental or whatever it is your heart desires. These apps are bound to make one of the steps to the best engagement ever simpler.